The crossroads is an overworked concept in political reporting. Generally, it's a cliche best avoided. But sometimes, politics just is at a crossroads.
The government has produced a budget that it
hopes will recast its political fortunes
, and senior players over the past week have scampered dutifully out to marginal seats to sell it.
The first run of post-budget opinion polls were bad
. Malcolm Turnbull needs them to be better, and reasonably promptly, otherwise all the concerted effort could become another attempt at a comeback that ultimately gets thwarted by internal posturing and dysfunction. Success in politics is always the best protection.
Labor is also in a position where it needs to consider where to go from here.
If the budget in coming weeks and months delivers what Turnbull wants it to deliver, a solid bedrock to launch a political recovery, Labor won't have the luxury of just rolling the arm over and re-running the 2016 campaign. That steady-as-she-goes option will be closed off.
Labor needs to prepare for a new fight. Beyond the immediate politics, beyond managing a gear change in the permanent campaign, the party needs to prepare to govern in the event Turnbull and the Coalition's position is terminal.
We've seen a couple of political leaders over recent cycles who can win elections, but struggle to govern, and Australians are heartily sick of that spectacle.
Some senior Labor people are seriously concerned that complacency has crept into the operation, that there is too much resting on laurels.
Beyond the inherent dangers of institutionalised self-satisfaction, not everybody is happy with Bill Shorten's budget reply.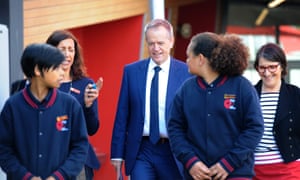 The internal critique ranges from craft and delivery –
Shorten's outing on the Thursday following the budget
was the speech of an opposition leader, not an alternative prime minister – to issues of substance.
Take one significant issue. The decision Labor took in budget week to oppose increasing the Medicare levy for low- and middle-income earners was taken in the leadership group. It did not go to the shadow cabinet.
Not everyone agreed with the leader's decision, either then, or now.
Some argued the government's budget proposal needed to be adopted for two reasons: the levy was designed to apply universally, that principle was important, and should be respected.
The second source of reservation was its fiscal implications. The position Shorten ultimately adopted in the budget reply speech (keep the deficit levy, apply the Medicare hike to the top two income brackets) costs $400m over the forward estimates.
Every decision like that one, on the hop, leaves Labor less room to move in funding its own priorities.
How, for example, is Labor going to produce a credible policy on hospital funding, unless it's harbouring a big undisclosed revenue measure? Can Labor really contemplate two election campaigns where its fiscal position over the forward estimates is substantially worse than the government's, with no electoral consequences?
While it's true that surplus debates have been cheapened and devalued by the ongoing bipartisan practice of juicing forecasts to make it look like the budget will return to balance, a promise that always fails to materialise – credibility and competence still matters.
Labor makes much of having taken hard policy decisions that improve the budget position over the medium term – and that self-congratulation is utterly reasonable given it is doing important things the government lacks the political will to do – but over the next four years, money is literally walking out the door.
One Labor man said to me this week you only ever get one Medicare campaign. This analysis is exactly right. The party now has to carve out new territory on a range of fronts.
There are live internal debates
about how progressive Labor needs to be on tax policy, which is playing out in micro in a conversation about the "Buffett rule" – but is actually a much bigger conversation.
Shorten has been trying to manage that internal debate in recent weeks by talking tough on millionaires and tax avoidance and limiting tax deductibility.
There's another emerging debate, in which the union movement will play a major role, which is about workplace relations policy.
Two weeks ago, Shorten and Labor's workplace relations spokesman Brendan O'Connor sat down with the ACTU leadership, and affiliated unions, to ascertain the ask.
Truth is, unions are still formulating the ask, but in caucus, there is strong support for legislative change enabling a grassroots campaign on wages growth. Presumably with an eye to union restiveness and internal sentiment on Friday,
O'Connor stuck his head above the parapet
and flagged the first phase of legislative change.
Wage stagnation is certainly fertile political ground
, and it's a space where the government can't match Labor without creating constituency problems.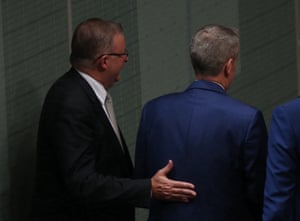 But whether that offensive proves a political positive or a negative for Labor (or more particularly for Shorten) depends very much on where various lines get drawn, and that depends on how politically pragmatic various union leaders intend to be.
While we are hovering at the crossroads, taking stock, we also have to talk about Anthony.
Antony Albanese has been, well, visible. There's been one
direct slap at the leader
over a crass political advertisement that pushed the "Australia first" nativism several bridges too far.
People in Labor who'll defend that indefensible ad will tell you the party needs to pick up seats in regional Queensland, so you go with what works, and that ad tested well.
But there's another fact which is also pertinent – the party needs to hold its inner city constituencies as well. One of the untold stories of the last campaign was Labor slipped backwards with its aspirational progressive constituency in 2016, because, as one Labor person puts it, "the winners of globalisation didn't much like our message".
Then, there was a second, more diffuse Albanese fly-by this week, where
he had some thoughts
over how Labor might have responded to the budget, which were a bit different to the leader's response to the budget, and which generated a bunch of screaming headlines.
These stories are always mildly ridiculous, when Canberra political reporters earnestly parse the contents of a speech to point out differences between principals, and then assign deep meaning to the differences.
We could apply precisely the same literary criticism to Chris Bowen's speech at the National Press Club this week,
which was also noticeably different to Shorten's
in tone. So what? People aren't robots.
But here's what isn't ridiculous by any measure. Albanese is Around. Think of him at our crossroads, whistling to himself and waving genially at the passing traffic. Assertively present. Not going anywhere.
Right now Labor's ascendancy in the polls protects Shorten. There is no organised move against the leader in any shape or form, and as long as the caucus thinks Shorten can consolidate on past success and deliver the victory, that won't change.
But I see two objectives in the Anthony is Around campaign. The first is practical. Albanese is clearly positioning himself at the top of the pile in the event things go suddenly, sharply south.
Once Albanese would have been Labor's only leadership alternative to Shorten. That's no longer the case. When the environment is more contestable, you might need to assert your place in the hierarchy. Beyond that, it's a question of definition.
Secondly, Albanese represents another style of Labor leader, another approach – a road not taken. By pushing back against a campaign that he clearly intuits will run negative, and nativist – he's counselling colleagues, anyone who cares to listen, that you don't need to be as zero sum as Tony Abbott to win an election.
He's saying something that needs to be said: how you win also matters.