The sun has not long disappeared below the rolling hills of the highlands when the locals begin to muster.
There are angry mutterings and shaking of heads among the 50-odd filling the old village hall in Exeter, two hours south of Sydney.
They are here to voice their anger about the underground coalmine a subsidiary of the Korean steel-making giant Posco wants to build on their doorstep.
The mood is tense. The creaking of a door as it's opened and closed by a government official is enough to make one local snap.
"Can you just shut it?" he barks.
He is straining to hear what
New South Wales
planning authorities have to say about Hume Coal's proposal to extract 3.5m tonnes of coal a year, which will lower the area's overall groundwater level.
The plan, if approved, would threaten the bore water relied on by farmers and property owners.
Ninety-three groundwater bores used by 71 landholders will be affected for an average of 36 years. The government officials explain that is a significant impact compared with other coalmines, and is largely due to the shallowness of the coal deposit.
Officials say the drawdown in water levels could be anywhere from two to 80 metres.
"Two to what?" one local exclaims from the back.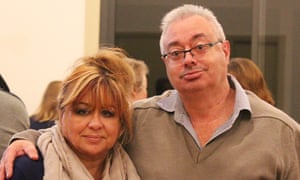 The room hushes slightly as Matthew and Kym Burrows get to their feet. The couple own a commercial olive grove on the project site. The thousands of trees lining the property produce award-winning Sutton Forest olive oil, and Matthew tells the room they depend on the pristine water lying below.
The mere proposal to extract the coal has already hit them hard. Banks are refusing to finance expansion of the business, saying the land has lost 30% of its value owing to the as-yet-unapproved mine.
They have had to lay off two workers, and Matthew has suffered depression and drinking problems as he despairs for his farm's future. His voice catches with emotion as he puts this to the government.
"Do you take that into consideration? If our business is destroyed, which it probably will be, will your department recommend we be compensated for 20 years' worth of hard work and loss of future income?"
Hume
Coal
began explorative drilling in 2011 and now plans to extract 35% of the coal in the deposit over 19 years, giving a further two years for rehabilitation.
The company would leave pillars of coal in place to prevent the surface from collapsing. An unusual "pine feather" method would be used to pull out the coal, a type of underground recovery akin to
longwall mining
.
It would be stored at a large stockpile nearby, transported out using a new extension to the region's main southern railway, and mostly sent to Port Kembla for export.
The company says it has carefully considered the impact on groundwater and would pay for mitigation measures that would prevent any disruption to bore water.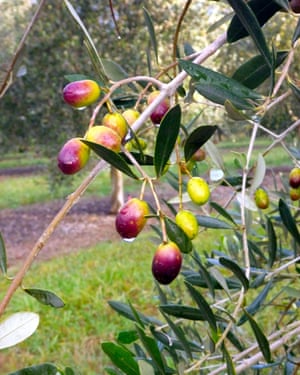 A Hume Coal spokesman, Ben Fitzsimmons, says locals' fears about groundwater are based on misunderstandings. He says the company is compelled by the NSW government's aquifer interference policy to ensure landholders do not lose bore water at any stage. The company plans to drill deeper bores and upgrade pumps for affected properties.
"The onus is on Hume Coal to make good any impacts on groundwater," he says. "And through our mine design we've been able to achieve impacts on groundwater that can be mitigated, and no landholder will go without groundwater."
But the executive director of the NSW Department of Planning and Environment, David Kitto, says the mitigation measures lack detail. He wants to see more from the company.
The locals here are not typical laypeople. Among those opposed to the project is Bruce Robertson, a Berrima berry farmer who is a retired supervising geologist with four decades' experience in coalmining.
Another is
Colin Grant
, a former chief executive of Biosecurity Australia and the national industrial chemicals notification and assessment scheme.
They give the opponents an ability to sift through the spin.
Grant has been in the area on and off for 10 years, commuting to and from Canberra, but has lived here semi-permanently for the past eight months.
He fears the company, if it gains its approval, will start pushing the boundaries and ask to extract more and more coal.
"There are risks in all of this, in terms of creep, approval creep," Grant tells Guardian Australia.
"They've said they want 35%, but then it will be a little more, and a bit more, and they'll keep coming back, because I don't believe the economics stack up."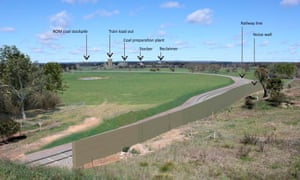 Grant's concern about the viability of the proposal is shared by many. The extraction method is relatively expensive and will recover relatively little, while the
overall global demand for coal is flatlining
.
The department has confirmed that taxpayers would receive only
about $120m in today's dollars over the two-decade life of the mine
.
The amount gained in royalties, Grant says, would probably be less than the cost of compensating landholders and forgone tax revenue from impacts on local businesses.
"It's negligible," he says. "And yet the loss here, in terms of prospective business benefits, I suspect over that period of time will exceed that."
But the company says a mine would bring other benefits to the region, and commissioned a cost-benefit analysis that suggests the net economic impact would be positive.
It says 400 jobs would be created during construction and a further 300 during operation. Fitzsimmons says the job estimates are conservative.
"Three hundred jobs during operations for a period of up to 20 years, that's a pretty good employment for an area that's experiencing severe unemployment or underemployment," he says.
The company has set up a charitable foundation and an apprenticeship program. But the gestures do not appear to be winning over the community.
Groups have sprung up in opposition to the project, including Battle for Berrima, which conducted door-to-door surveys of surrounding regions, showing overwhelming opposition. In Exeter 94% of those surveyed were against the project. The result was largely the same in Berrima.
Battle for Berrima's vice-president, Michael Verberkt, fears the mine will threaten Berrima's ability to pull in tourists. The town trades on its status as one of best-preserved examples of a Georgian village in Australia.
The project would require eight trains a day to take coal from the mine. The
company's environmental impact statement
suggests there are now 120 movements along the main railway each week. That would increase by 50 if the mine was approved.
The noise would be compounded by trucks, operations and maintenance work, locals say.
Verberkt is also worried that winds will carry particles from the coal stockpile to nearby villages. Mining more coal in an era of climate change and
slowing demand
makes no sense, he says.
"It's time to move on and start getting serious about other alternatives, of which there are many out there."
Back in Exeter's village hall, the meeting is over. Members of the crowd are approaching Matthew Burrows, patting him on the shoulder, thanking him for his bravery. Most people here know him and it wasn't easy to speak openly of his depression.
But shared adversity has a way of unifying communities.
When the Hume Coal workers tried to access a property next to the Burrows' olive grove six years ago, locals came up with a cunning plan. They threw an inconveniently placed, impromptu street party on the main access road. There was dancing, music and food. A friend pitched in a floodlight.
The party morphed into a roadblock and a 24-hour roster was drawn up to ensure the street was continuously blocked. It lasted eight months.
"That's the one good thing to come out of this," Kym Burrows tells Guardian Australia. "I've made so many good friends through this whole process. It's brought the whole community together."
The approval process for the mine still has a long way to go. Even once a decision is made, there is room for appeals on both sides.
Submissions are being taken on the environmental impact statement for 90 days, and the company is holding its own consultations just before that period ends.
The locals are frustrated by the uncertainty and fear the fight will drag on for years. Even if they win, they worry another company will come along.
At the meeting a Berrima resident, Ian Burns, asks the planning authorities: "How do we get rid of this project forever?"