As the US president weighs up whether or not to withdraw from
the Paris climate agreement
, we look at his most frightening actions on global warming
Oliver Milman
Wednesday 31 May 2017 17.00 AEST Last modified on Wednesday 31 May 2017 17.02 AEST
1. Nominating Scott Pruitt as EPA administrator
In March, Scott Pruitt infamously
said about carbon dioxide
that "I would not agree that it's a primary contributor to the global warming that we see", in contradiction to climate scientists, including those at his own agency. Trump's Environmental Protection Agency (EPA) chief has deep
ties to fossil fuel interests
and joined with them on numerous occasions to challenge EPA pollution rules while attorney general of Oklahoma. He has opined that the EPA has become distracted from its core mission by climate concerns and has begin the process of ripping up Obama-era emissions regulations.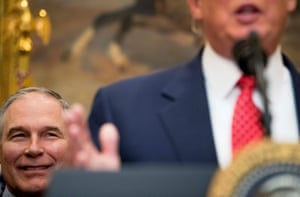 Environmental Protection Agency (EPA) administrator Scott Pruitt listens as Donald Trump speaks before signing the Waters of the United States executive order on 28 February. Photograph: Andrew Harnik/AP
2. All change at the EPA
Trump's
proposed budget
would cut the EPA's budget by nearly a third, a move that many Republicans have called draconian. Climate and clean energy programs are earmarked for the scrapheap, with even the data collection process for companies' greenhouse gas emissions wound down. Climate considerations in federal permitting have been abolished, measures to reduce methane emissions have been halted and new standards to improve fuel efficiency of cars and trucks have been suspended.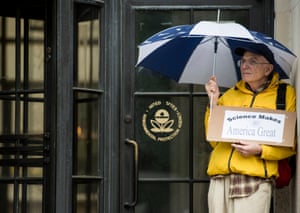 A protester seeks shelter from the rain in front of the EPA during the Science March, in which thousands rallied in Washington. Photograph: Bill Clark/Getty Images
3. Starting the demolition of the Clean Power Plan
An executive order in March
demanded a review
of the Clean Power Plan in order to remove "regulatory burdens that unnecessarily encumber energy production". Trump has repeatedly vowed to dismantle the plan, which aims to curb carbon dioxide emissions from coal-fired power plants. Several analyses have shown that without the plan, the US will fail to cut emissions to the level pledged at the Paris agreement.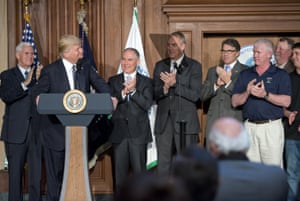 Donald Trump makes remarks prior to signing an executive order that reversed Obama-era climate change policies. Photograph: Pool/Getty Images
4. Open up federal land and waters to drilling
Trump has instructed the interior department to review dozens of national monuments to see if they could be scrapped or resized to allow better access for oil and gas drilling. A moratorium on coal mining on federal land has been lifted while a bar on offshore drilling off the Atlantic coast is being reviewed. Trump's budget also calls for drilling in the Arctic national refuge in Alaska, a plan that has dismayed environmentalists.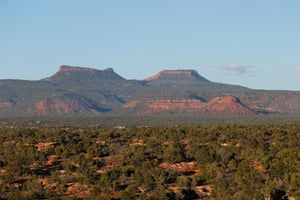 The two bluffs known as the 'Bears Ears'. The newly created Bears Ears National Monument and the Grand Staircase-Escalante National Monument, are under review by the Trump administration. Photograph: George Frey/Getty Images
5. Approve pipelines
In one of his first acts of presidential pen wielding, Trump
called for the rapid approval
of the controversial Keystone and Dakota Access pipelines. The two oil-carrying projects are now pushing ahead, with the Dakota Access pipeline
already registering its first leaks
before it is even fully operational.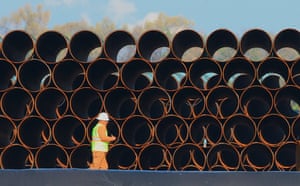 Pipes for the proposed Dakota Access oil pipeline, that would stretch from the Bakken oil fields in North Dakota to Patoka, Illinois. Photograph: Nati Harnik/AP