Former President Barack Obama on Thursday reacted to President Trump's decision to withdraw the U.S. from the landmark Paris Agreement on climate change. Obama signed onto the agreement, which seeks to limit carbon emissions in an effort to slow global warming, in 2015. Trump announced his decision to withdraw from the agreement with a speech Thursday in the Rose Garden, slamming its "draconian financial and economic burdens."
"A year and a half ago, the world came together in Paris around the first-ever global agreement to set the world on a low-carbon course and protect the world we leave to our children," Obama said in a statement. "It was steady, principled American leadership on the world stage that made that achievement possible." Obama went on to laud the "bold American ambition" that enabled the Paris accord, and said "the nations that remain in the Paris Agreement will be the nations that reap the benefits."
Obama slammed the Trump administration for joining "a small handful of nations that reject the future"; only Nicaragua and Syria have not signed onto the agreement. He then urged smaller entities, whether individual cities or private businesses, to "do even more to lead the way." Read his full statement below.
Kimberly Alters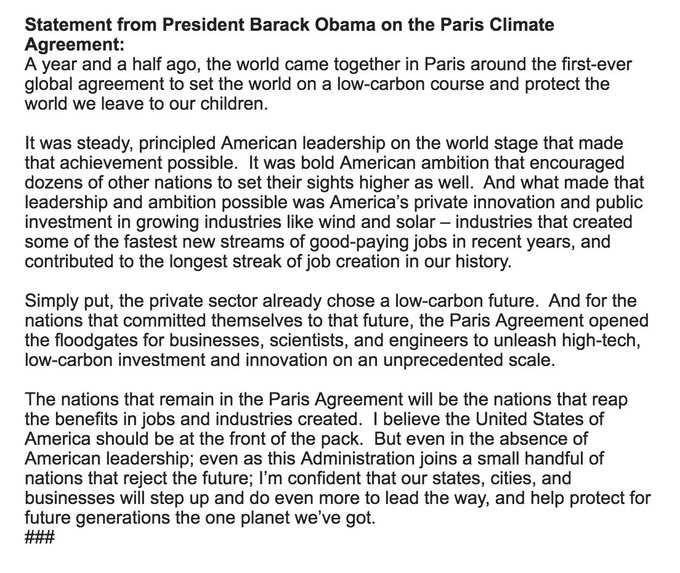 Follow
Bradd Jaffy
✔ @BraddJaffy
Statement from Barack Obama on the Paris Climate Agreement
5:36 AM - 2 Jun 2017