S
aturday night, 12 months ago,
Malcolm Turnbull
stood on a stage in a Sydney hotel,
radiating fury
about an election gone wrong. The long winter campaign of 2016 had not delivered vindication, or the clear mandate he'd sought. The Coalition would scrape back into power, but only just.
In the middle of this week,
Turnbull surveyed journalists in Cooma
with a not-dissimilar disposition to the one he'd had on election night. The prime minister wanted to talk about Snowy Hydro. Journalists wanted to talk about Tony Abbott.
Turnbull has become better at masking his annoyance when his experience falls short of his expectations. He's now learned to smile through his frustration, but the smile is fixed, performative, a mask. Joy very rarely reaches the eyes.
His irritation this week was understandable. The Canberra hot house hit full swooning temperature over the course of the week. Christopher Pyne
had been Christopher Pyne at a function
, declaring premature victory for the moderates and gloating about an imminent solution to same sex marriage.
Pyne's
indiscretion was the opening many were looking for. Conservatives went on the warpath.
Abbott promptly flicked the switch to maximum destruction
, playing the wronged prime minister in exile.
Younger conservative up-and-comers laundered their ambit claims for advancement through their preferred media outlets – down with Pyne, up with us – with gauche briefings – with smudgy finger prints that colleagues can easily read.
It was supposed to be a good week for the government, coming off the back of the passage of the school funding reforms, on the up-ramp to the first anniversary of the election. Instead, it was a complete write-off, a display of mildly unhinged animus.
The self-indulgence of the political class was aided and abetted by Tony Abbott's usual life coaches, the alpha chorus on 2GB, Sky News and News Corp. The parliamentary press gallery also galloped alongside the sideshow in full startle mode, chasing smackdown increments in the waterfall news cycle, which is every bit as relentless and breathless and zero-sum as the Liberal party's current appetite for self-destruction.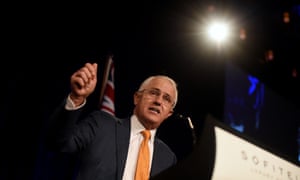 Outside the noxious #auspol bubble, Australians are heading to the weekend with their own early July milestones. High-income earners will get a tax cut, courtesy of the abolition of the deficit levy; there will be a bump in the minimum wage; and low-income workers in retail, pharmacy and hospitality will get a pay cut through a loss of Sunday penalty rates. We'll hear a lot about penalty rates this weekend.
While politicians will get a pay rise from Saturday
, Australia's jobless recovery grinds on, increasing the sense of contingency in the community. Wages growth in the community is so sluggish even the Reserve Bank governor thinks it is
time for workers to rise up
and demand a fairer share of the pie.
One government MP says his community feels powerless. "The public don't like politics at all. They feel let down, the cost of living is rising, they feel the slug in their utility bills, they feel powerless, and they are reminded that governments are powerless and not on their side."
"Governments don't control the levers anymore, and that sense of powerlessness goes through the government and loops through to the people – and we are in a place where the leader of the country doesn't have a relationship with the Australian people."
The sum of those parts is danger. Danger for Turnbull, danger for the government.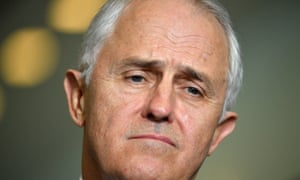 The big switch (off)
The most existential problem the Turnbull government faces one year on from snatching victory by a whisker is not
Tony Abbott
's histrionics, although that is damaging. The danger is voters can't stomach more disappointment from Canberra and have already checked out.
In the
most interesting political speech of this year
, the treasurer,
Scott Morrison
, laid out the scope of the current problem. He said there was now a thick layer of ice between voters and establishment politicians.
While
Australian politics
on the centre right has become more ideological, more riven, more combative, more petty, more snagged in culture war – voters are eschewing the old tribal and partisan allegiances.
Voters are not interested in the intrigues and animating conflicts they see in Canberra, so they are collectively reaching for the remote and turning down the volume. The forgotten people of Robert Menzies were now fully intent, Morrison said, on forgetting
us
.
As diagnosis goes, the Morrison analysis was acute. The solutions he posed, however, were superficial and unconvincing, the sort of segue you construct when you want to move glibly from a mic-dropping bombshell to locker room pep talk. There is a much deeper problem in play and the solutions are neither easy nor obvious.
One veteran Liberal insider puts the government's current difficulties this way: he says there is a persistent vacuum at the heart of the operation that can't be fixed by slick tactics, fake empathy or mystical backroom dark arts.
"There is not an agreed economic model on the political right for how to approach a jobless recovery. Currently, people are fighting over nothing because there is nothing clear to fight over. Where is the content, can you tell me? What is the central idea of Australian, contemporary conservatism?"
Steady incrementalism no longer cuts through
Anyone still tuned in to politics in the era of Brexit, of Donald Trump's occupation of the White House, of Emmanuel Macron's entrepreneurial invention of a political movement in France, can see that steady incrementalism in a business-as-usual construct no longer resonates with voters.
Voters are marking up outsiders and disrupters. People are mobilising from the ground up, rallying to causes, if they see something worth mobilising for. They want an explicit acknowledgement that politics as usual is not working in the interests of voters.
Establishment politics in Australia has a bunch of reset and refresh tricks. Let's change the leader. Let's have a reshuffle. Let's launch a new manifesto. The old habits no longer deliver the desired result and flutter off like so much confetti. In politics at this moment in history, you have to be bold enough to change the game.
Labor MPs are fond of saying Turnbull has missed his Macron moment. Some of the prime minister's opponents feel Turnbull had a genuine moment when he could have deployed his outsider status to rise above the petty strictures of the tribe – a moment when he could have credibly owned the centre ground.
Whether this theory is plausible, or a bit of idle trolling, that moment has passed. Inside the
Liberal party
, things look different. Rather than seeing their own version of Macron, a political disruptor dead-weighted by an institution lacking the imagination and generosity to let him soar, many Liberals feel the prime minister was given his head in a presidential-style election campaign a year ago.
They feel Malcolm was permitted to be Malcolm, with his tech kids in T-shirts and his exciting times, and he didn't connect and didn't deliver. Out on the hustings, the charisma in mixed company was limited. Turnbull looked confused when people weren't rational.
Despite the rolling ruckus, some government MPs insist the Liberal party has not entered a permanent state of war. They will say internal differences are overblown, with individuals looking to maximise their own short-term influence and leverage, rather than seeing government as a team sport.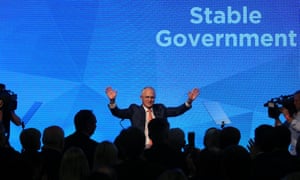 Others believe the pervasive atmosphere of disruption requires much deeper thinking. Cory Bernardi has already decamped a Liberal party that felt too much like compromise for a red-meat conservative. Some other figures in the government wonder whether philosophical differences inside the party can be managed in house in perpetuity.
The global financial crisis has divided the world into winners and losers, and the political class into bridge builders or wall builders.
The Liberal party has a divided constituency. Inner-city elites want one thing. People in outer metropolitan regions and the outer suburbs, another. Trying to craft an inclusive political language is hard, particularly when politics itself has lost the art of compromise. In this environment, splits begin to feel viable if there is a catalyst. A catastrophic election loss could be one.
The factional blocs are also being refashioned. The left and right of the Liberal party – once known as the wets and the dries – used to battle over economic ideas.
Now Abbott wants to redefine the right of the party in terms of his social conservatism, not economic philosophy. For some rightwingers who define themselves by the old measures, Abbott's right feels like a personality cult or a vestige of the Democratic Labour party, rather than a manifestation of traditional liberalism.
Abbott pretends to have an austerity agenda, which could be characterised as dry, but in truth his thinking is internally incoherent. He wants to reduce deficits bigly and cut spending and build a coal-fired power plant and buy nuclear submarines and whatever else catches his attention.
The agenda has all the weight and heft of a bumper sticker.
The two phases of the Turnbull prime ministership
Mastery of the Liberal party involves the capacity to forge detente between moderates and conservatives, as John Howard often says. As party leader, one must be the cardinal of the Liberal party's broad church.
Turnbull's prime ministership has had two phases.
The first phase, pre-election, saw a lot of appeasement to the right: on the same-sex marriage plebiscite, on safe schools and climate change. The second phase – the crafting of a centrist budget, the acceptance of needs-based funding for schools, the ongoing effort to settle a rational climate and energy policy – has been more moderate in hue.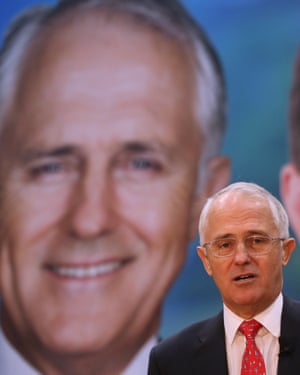 Turnbull would doubtless see phase two as necessary political pragmatism rather than a manifestation of his latent communism or his secret desire to humiliate conservatives, but conservatives are prone to slights, and in this government, grievance is currency.
Turnbull lacks Howard's natural authority within the Liberal party to bend the competing strains of thinking into some sort of grand bargain, so the fights over totemic issues are played out in winner-takes-all mode.
Overlaid on the environment of permanent contest and rank attention-seeking is Abbott's relentless campaign to tear down Turnbull, no matter what the costs or consequences.
Abbott can no longer credibly claim to be a journeyman backbencher or a student of political philosophy, just musing out loud. He is running a campaign of deliberate destabilisation. The fact he is running it himself and not through proxies, apart from his loyal media proxies, speaks volumes about his current level of party room support. Colleagues are furious with his antics and some belt back. "He wants to drive the party to despair," says one MP.
Lone wolves can still inflict catastrophic damage and the environment is so febrile that people are not in the business of predicting what happens next, particularly if negative polls remain fixed and marginal seat holders start to panic.
In making calls for this essay this week, I was struck by the familiar tone from MPs and senior players. It was the same tone I'd heard from Labor MPs during the dog days of the Rudd-Gillard civil war.
The dysfunction of the two governments is not identical – in some respects it's markedly different – but the stories protagonists tell about themselves and colleagues contain the same observations, the same level of enervation, the same sense of grim perseverance, a retreat to focusing on what individuals can control – the same docudrama, in loop.
Turnbull has approached his myriad challenges by pushing forward, issue by issue. Down in the prime ministerial bunker, crafting something as lofty as the new central idea of Australian contemporary conservatism would feel, I suspect, like a terribly highfalutin concept – beyond the scope of work.
While the political moment clearly demands new thinking, new language, a new compact with voters, Turnbull is not a prime minister with the luxury of being able to fashion grand gestures.
The prime minister, in his current practical, let's-crack-on mode, would argue there's no point fantasising about magic bullets, or circuit breakers. The only way forward is to define your wicked problems, have a plan and put one foot in front of the other.
He would point to the fact he won an election in a political climate hostile to incumbent governments and has proceeded methodically to fix problems created by Abbott and also forge a concrete, campaignable agenda for his government.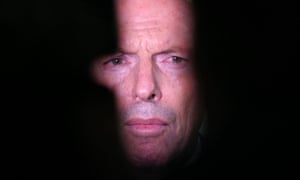 He would point to data
in the Guardian Essential poll showing the major party contest narrowing a fraction post budget
and he'd say the Coalition is behind in the contest, but not down and out.
Given how hard everything is, hard to navigate through the party room, hard to navigate through the Senate, focused incrementalism would feel to him like a genuine achievement – and in his rubric, it is.
Ministers say candidly they have got more through the Senate in the last 12 months than they thought they would: industrial reform, a new childcare system, schools funding. They also report that for all the reflexive dysfunction, the cabinet process is workable and frank.
Outside some chaotic pre-budget kite flying and a still-unresolved wrangle about whether the immigration minister, Peter Dutton, will get a super department of homeland security, there have not been many leaks, which points to a basic unanimity of purpose at senior levels, at least up until this point. "In a policy sense, we are creating solid foundations," says one minister. "We are getting things done, but our jihadists are intent on blowing things up."
Dutton put the government's choices starkly this week. The party could either come to terms with events of the past and move on, or hand government to Labor.
"The issue for us is that we need to move on before all of this stuff consumes us, because I honestly believe with all of my heart that the worst thing for our country is for
Bill Shorten
to get in there, to become prime minister," Dutton said.
Campaigning and communication
Forging gritted-teeth consensus inside the ministerial wing isn't the only pressing challenge. Australia has elections, seemingly, every five minutes. There is always a new campaign around the corner and realists inside the government fret about their structural disadvantage. "We are so far behind progressives on campaigning that we are not really a sustainable political movement as we stand," one MP says. "And we are fighting yesterday's war."
The Liberals lack the campaign presence and professionalisation of their progressive counterparts, who have spent the last decade building up a field structure. The party membership is comprised of older people and Young Liberals. Things can get willing on the ground when well-meaning volunteers match up with professional activists, who show up early and clock off late, and prosecute every point with vigour.
Fundraising remains a challenge across the board. Corporations are less inclined to put their hands in their pocket.
Andrew Robb's recent campaign review
found the Liberal party's data, research and analytics function has been significantly under-resourced. Programs like Nation Builder, which allows political parties to connect with voters on social media and build up valuable information that helps with micro-targeting, are only very recent additions to the Liberal party campaign tool kit.
There has been a changing of the guard in the national secretariat of the Liberal party and the incoming party director, Andrew Hirst, will face a major challenge trying to get his organisation battle ready. Hirst is a solid backroom operator with a load of experience and a talent for keeping friends, but he's not a magician.
Backroom types can maximise the output politics dishes up. People can usher in modernity to campaign techniques and deploy resources on the ground in the right places, but they cannot turn straw into gold. They have to have something to sell.
Robb's recent critique of last year's election was as much about the paucity of content as it was about specific campaign deficiencies. His report noted that it is often overlooked that the view of a government or opposition is progressively formed over the three years of a parliamentary term, not during a campaign.
With much of the daily media coverage hostile – particularly the negative feedback loop from Andrew Bolt, Alan Jones and Ray Hadley to the party base, which is stirring up trouble in the branches – the prime minister is also looking to communicate directly with voters at every opportunity.
That means stepping around the mainstream media filter when possible and publishing on social media. There has been a demonstrable shift in strategy.
You can see the appeal of the workaround, but that strategy has inherent limitations. A recent survey from the University of Canberra suggests politicians
are largely preaching to the converted
via their social media feeds and not really penetrating beyond their natural supporter base.
Data gathered as part of a global digital media survey in 2017 suggests people are self-selecting their partisan sources and sticking to one side of politics, rather than consuming material from a range of politicians.
Turnbull might think he's cutting out the middle man, but the field evidence suggests he'll be shouting in an echo chamber.
Trouble not confined to the Coalition

Greens leader Richard Di Natalie finds himself in a pitched battle with the party's NSW wing and their senator Lee Rhiannon. Photograph: Mike Bowers for the Guardian
Governments always dominate media coverage, but the progressive side of politics has travelled a bumpy road over the year since the election.
The recent ructions inside the Greens show the Liberal party is not the only force in Australian politics wondering where to position itself in a shifting political landscape.
The Greens leader, Richard Di Natale, has found himself in
a pitched battle with the New South Wales branch of his movement
, which is both a philosophical fight and a brutal power struggle every bit as bitter and consequential as the one playing out in the Liberal party.
Labor is ahead in the polls, but there have been ructions.
A significant breakout happened at budget time when
Bill Shorten's leadership group split
over funding of the National Disability Insurance Scheme – which was really a fight about whether complacency had crept in to the operation and whether short-term political considerations were crowding out longer-term objectives.
There are also live internal debates
about how progressive and redistributive Labor needs to be on tax and economic policy, which is playing out in micro in a debate about the "Buffett rule" – but is actually a much bigger conversation about where Labor positions itself when figures like Bernie Sanders and Jeremy Corbyn have found an electoral appetite for post global financial crisis policies that are more left than squidgy centre.
While Labor has significant institutional strength, some Labor people fret that Shorten is not the cut-through figure the party needs. He's a clever politician, but he's not the transformational figure voters are seemingly on the hunt for and voters haven't warmed to him.
Given Turnbull's manifest challenges, it would be tempting for Shorten to just hunker down and approach a new election season in cruise control, but he won't have that luxury.
Politics right now is a lethal business and no protagonist can afford to stand still.