Former Liberal leader says climate should be dominant issue of election campaign rather than 'short-term politicking'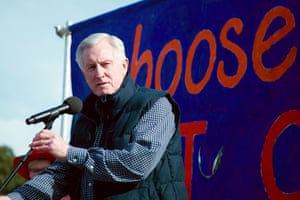 The former Liberal leader John Hewson addressed an estimated 2000 people protesting in the Sydney suburb of Double Bay – minutes from Malcolm Turnbull's harbourside mansion – calling on the prime minister to take stronger action on climate change.
Speaking at the same time as
Turnbull addressed the party faithful at the Coalition's campaign launch
, Hewson told protesters the Coalition's lack of action on climate change was a "national disgrace".
"I think climate change should be the dominant issue of this campaign – it should have been for quite some time," said Hewson, who was once the local member for the seat of Wentworth, which includes Double Bay.
He said "short-term politicking" from both sides left targets that were inadequate and policies that were not going to meet those targets.
"The one thing that hasn't failed is people like yourselves," he said. "The community is way ahead of the political leaders and the business leaders on this issue."
He urged the crowd to push political leaders for a bipartisan approach to climate change. "Enough is enough, it's time to act," Hewson said.
A spokesperson from GetUp, which organised the protest in coalition with three other environment groups, estimated there were about 2000 people in the crowd.
Protesters were given placards in the shape of coral, which were coloured on one side, and white on the other, which symbolised
the devastating bleaching on the Great Barrier Reef
. They turned them around for the cameras, while chanting "Choose the reef, not coal".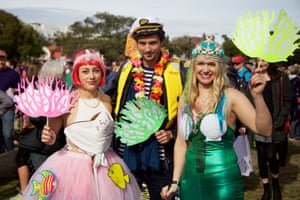 Robert Shelly, who lives in Vaucluse, attended the protest with his two-year-old daughter, Ariella, and her dog. "We come from a family with a big environmental conscience. It's a very important issue and it's been completely ignored by the mainstream," he said.
Paula Brook, who lives in Woollahra, said she was motivated to come to the protest after seeing the
Australian Conservation Foundation's scorecard
, which said the Coalition's environmental policies were "woefully inadequate".
"The
Coalition
was really far down, and this is Malcolm Turnbull's electorate and so it was important to show him that people care about environmental issues," she said.
The crowd was also addressed by Dr Kate Charlesworth, who was until recently a Wentworth resident and previously worked at the sustainable development unit at the National Health Service in the UK. She said although climate change was a great risk to human health, and a health emergency, actions that would mitigate climate change had the potential to be a great boost to human health.
"Things like active transport – walking and cycling – improved diets with more plant based foods; looking at the causes of air pollution; reducing traffic congestion; healthier cities with more green space and tree cover. All these things will have tremendous benefits to human health," she said.
Michael Borgas, a climate scientist at the CSIRO also addressed the crowd, calling on the government to fund climate science, following the news that the CSIRO was making significant cuts to its climate research.
Tony Fontes, a
Great Barrier Reef
diving instructor, also spoke, calling for stronger climate action to protect the reef. "We've just seen the greatest, most devastating bleaching event in the history of the reef and we're going to see more."
Lyndon Schneiders, the national director for the Wilderness Society, which helped organise the protest, said: "Malcolm Turnbull must do more to address climate change. The Great Barrier Reef is dying on Mr Turnbull's watch and yet his government sticks to its inadequate Direct Action policy."
Nikola Casule from Greenpeace – another organiser of the protest – said Australia's greenhouse gas emissions were growing and forecast to increase until 2030. "The science is clear – the world needs to stop emitting greenhouse gases but our emissions are going in the other direction."
The protest caps three days of protesting in Turnbull's electorate.
On Friday Greenpeace activists hung a banner from Turnbull's electorate office in Edgecliff, saying: "Turnbull's Legacy: bleaching – brought to you by Malcolm's mates in the coal industry."
And on Saturday, a group of 50 pacific islanders kayaked from Blues Point to Lady Martin's beach, mere metres from Turnbull's harbourside mansion, raising awareness of climate change and sea level rise.