Tony Burke says Labor now allowing measures through because the budget needs to be repaired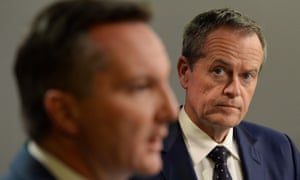 Chris Bowen and Bill Shorten at a press conference in Sydney on Friday. Photograph: Mick Tsikas/AAP
Labor has agreed to allow $1bn worth of Abbott-era cuts through the Senate but says it will continue to block $5.5bn worth of unpopular savings measures.
The Coalition will be now forced to find an alternative $5.5bn worth of savings, with little hope of getting the rest of its so-called
"zombie" measures
through the Senate.
Those measures include its attempts to increase medical copayments, to cut Medicare safety net arrangements and to remove "double dipping" from parental leave pay.
The Labor leader,
Bill Shorten
, said those $1bn worth of savings had allowed Labor to identify $8.9bn of total savings measures over four years and $105.4bn over 10 years.
The announcement comes as Labor suffers attacks from the business community over its opposition to the Coalition's $50bn 10-year tax cut plan.
Shorten is trying to pivot the debate back towards the government's own spending plans, saying the government's official budget is now out by at least $5.5bn.
But he has not revealed Labor's total spending plans and says more announcements will be made as the election campaign progresses.
The opposition finance spokesman,
Tony Burke
, said Labor was now allowing four Abbott-era measures through the Senate, after blocking them for years, because the budget had to be repaired.
But he stressed the
Coalition
would now have to find alternative savings worth $5.5bn over four years and $23bn over 10 years.
"There is a remaining set of measures worth $5.5bn over the forwards, or $23bn over 10, which the government includes in its budget bottom line, that will never pass the parliament," Burke said.
The four measures Labor will now allow through the Senate are:
reducing the rates of tax offsets for research and development, saving $860m over four years, and $2.8bn over 10;
changing higher education indexation arrangements, with funding to be indexed to CPI, raising $119m over four years, and $3.7bn over 10;
changing the sustainable higher education loan program by reducing the threshold for repayment from $54,000 to $50,638, raising $9m over four years, and $129m over 10;
and ceasing the HEC-HELP benefit for certain courses, raising $24m over four years, and $159m over 10.
The treasurer,
Scott Morrison
, has criticised Labor's announcement, saying it showed that Labor changed its position so frequently that it could not be believed.
"Mr Burke stood here today and said that other measures would never be supported but yet today he confirmed that previous positions, which [Labor] had long opposed, that they will now support, just like they said they would never support the changes on Schoolkids' bonuses and things like this," he said.
"What Labor says they will support and not support is anyone's guess because they change their position so often."
Two weeks ago, the Coalition criticised Labor's election spending plans by
claiming it had a "$67bn black hole
".
The attack caused Labor to
dump $8bn worth of spending commitments
over four years – the Schoolkids bonus and the pension assets test.