The prime minister has to prove his mettle by pushing through a climate and energy policy – despite party room sniping – that Labor will support
Protesters demonstrate in front of the White House after the US president, Donald Trump, announced his decision to withdraw from the Paris climate accord. Photograph: Paul J. Richards/AFP/Getty Images
Friday 2 June 2017 12.11 AEST Last modified on Friday 2 June 2017 12.13 AEST
People who have been following Australia's tortured climate change policy debate for a long time could be forgiven for wondering whether the whole area is cursed.
Just when it looks like there could be a prospect of progress, an obstacle emerges. In this case, the obstacle is Donald Trump, who by withdrawing from the Paris climate accord has turned America from leader of the free world into free rider.
The US president's willingness to surrender global leadership on important issues is, from this distance, truly unfathomable. Even his withdrawal patter on Friday morning was pathetic. America was out, but would come back in if it could get a better deal. America was out, but possibly back in, because the citizens of Pittsburgh apparently don't care about climate change.
Seriously. What a performance. As Malcolm Turnbull might have said breezily before he almost lost an election, what a time to be alive.
I know there's a valid school of thought that says silly Trump doesn't matter, that America's recklessness will galvanise the public around the importance of climate change, that the trend towards decarbonisation is now hard-baked in to the system – but that's not how things look if you sit on the Australian government's perch.
For Turnbull and his government, Trump's timing is deeply unhelpful, to put it mildly. Right now it is trying to land its own energy policy plane, and whenever you put climate and the Coalition in the same sentence, you know things are going to get complicated.
This rule change was in large part about laying some groundwork for a more substantial process which is lurking, just visible over the horizon. A week from now, a much anticipated report from the chief scientist, Alan Finkel, will be made public.
The chief scientist, Alan Finkel, at Senate estimates on 1 June. Photograph: Lukas Coch/AAP
For months, Finkel has been beavering away trying to save the government from the significant problem it created for itself when it decided, after an internal rebellion, to rule out a carbon trading scheme for the electricity sector.
He has been trying to come up with alternative options which would give the market a clear signal to kickstart new investment in generation capacity – with an eye to Australia's emissions reduction commitments. This is no easy brief, particularly with one arm tied behind your back.
The word around the major interest groups says Finkel will maintain his preliminary advice that an emissions intensity scheme would be a good option, but he will also recommend the government consider a low emissions target, which in practice works like a technology-neutral renewable energy target.
A low emissions target is a regulation requiring that a percentage of electricity be generated annually from "low-emissions" sources. This will certainly be renewables and gas. It could even be high efficiency coal if you were (1) a government wanting to placate Australia's resources sector (which is already warming its jets for "axe the carbon tax" round two), and (2) a government needing to apply a stun gun to climate sceptics inside your own party room.
Including coal in a low emissions target would be a completely ludicrous development, but ludicrous is what you get after 10 years of zero sum, win-at-all-costs, peak stupid politics.
If you engage in the sort of destructive political madness the Coalition has engaged in over the past decade, you unfortunately get to be the hostage of your dancing partners, both internal and external – unless you develop the guts to stand up and tell them to get stuffed.
Steering a low emissions target through a party room which contains a rump of climate sceptics, who are already campaigning full tilt to get rid of the current renewable energy target, isn't even the hard part.The really tricky bit will come after that.
A low emissions target isn't a silver bullet that will magically make Australia meet its Paris emissions reduction targets, particularly if the target isn't ambitious.
Additional abatement measures will be required on top to meet the current Paris commitments, and there will be internal fights about what those measures should be, and their impact on power prices.
It doesn't take much imagination to envisage a scenario where government conservatives would argue that one foolproof way for Australia to get out of its Paris "problem" would be to get out of Paris, or substantially lower the level of ambition, using the US exit as justification.
A bunch of people inside the government are already saying this – some have been saying it from the moment Trump was elected – and I believe most of them mean it. You don't have to ask me how dangerous these discussions get in the Coalition. We can just ask Turnbull, who lost the party leadership over the issue back in 2009.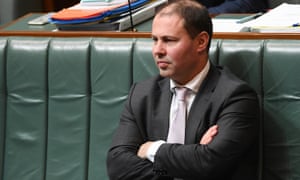 The energy minister, Josh Frydenberg, backs Malcolm Turnbull's determination that Australia will not withdraw from the Paris accord. Photograph: Lukas Coch/AAP
To their credit, Turnbull and the energy minister, Josh Frydenberg, are absolutely holding the line. Turnbull pushed through the Paris ratification five minutes after Trump was elected, and both say Australia will not withdraw from the accord.
Frydenberg is also trying to thread the needle on Finkel. He's mapped out a route through the obstacle course, strapped on his crash helmet, and set off at a steady jog.
But again, it's not just the Coalition's tortured internals the prime minister and the energy minister have to war game about. The government also has to think about how its reworked energy policy might ultimately attract bipartisan support.
This might seem a laughable concept given all the toxic sludge that's gone under the bridge this past decade, but the problem the government faces in a public policy sense – a demonstrably sub-par energy grid – can't be solved unless industry finally gets some certainty out of Canberra.
Even if Frydenberg demonstrates over the coming months that he has the wisdom of Solomon and the magic skills of Penn & Teller, and can somehow emerge from his own temperamental party room with a workable and credible climate and energy policy, business won't believe we've finally declared a truce in the climate wars until a truce between the major parties is actually declared.
Stakeholders in the energy market are completely over all the brinkmanship and the bullshit. They want a fix, and they are delivering that message loudly and clearly to both sides of politics.
Getting a durable public policy fix that will unlock the dollars required for new investment means the government will have to deliver a policy that has a sufficient level of ambition to convince Labor to sign up.
Labor isn't opposed in principle to a low emissions target, and has already stepped back from its original ambition on carbon pricing in an effort to try find where the mythical centre on climate policy might be.
But Labor will oppose a low emissions target that isn't a low emissions target in practice, and if national policy is still bitterly contested, reason suggests investors will keep their wallets in their back pockets.
In the end, all this comes down to three simple questions.
Does the government have the collective fortitude to ignore Trump's shameful audition to be the mayor of Pittsburgh, and try instead to do what's in Australia's interests, both as a nation and as a responsible citizen of the world?
Do Turnbull and Frydenberg have the guts, the intellect and the dexterity to try to push through to get a sensible climate and energy policy, regardless of all the obstacles they face?
And if the answer to question two is yes, will Coalition colleagues stop punching themselves (and the country) in the head and let them?